Honda Dealers: Please enter the site from the iN or eMall system for dealer specific content and pricing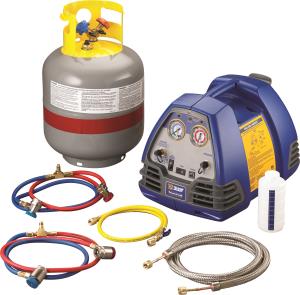 Item shown may not be actual product.
Product and price information are subject to change without notice.
---
$1,907.00
*
*log in for dealer pricing
R-134a and R-1234yf Yellow Jacket® Contaminated Refrigerant Recovery Machine
---
Description
Specifically designed to remove contaminated refrigerant from vehicles that are equipped with R-134a and R-1234yf MVACs. Motor vehicle air conditioner (MVAC) refrigerants can become contaminated from outside elements, other refrigerants from improper servicing, or in many other ways. If you have identified that the refrigerant in the vehicle you are servicing is contaminated, you must recover it before repairing or recharging. The best way to recover contaminated or unfamiliar refrigerants is with a recover-only unit designed to remove these refrigerants.
Features
Twin cylinder 1/2 hp oil-less compressor and gravity drain condenser
No need to regulate the inlet; compressor is capable of handling both liquid and vapor refrigerants
Unique "Y" hose assembly that recovers from the low-side and high-side of the vehicle simultaneously
Hose kit includes all necessary hoses and couplers for servicing R-134a and R-1234yf MVAC systems
Safe venting of case interior prior to start up
Low pressure bypass for recovery of leak-free systems
Low pressure switch stops recovery above ambient pressure for leaking systems to prevent pulling air into recovery cylinders
80% tank full shut-off safety harness prevents over filling of recovery tank
Oil separator and oil measure bottle for system oil removal measurement
For protection, high pressure shut-off switch turns the unit off automatically if the pressure rises above 350 p.s.i.
Inlet filter screen stops debris from getting inside unit
Maximum air flow and cool running even in high ambient temperatures
High efficiency fan keeps air moving across condenser
High pressure switch with automatic reset, tank overfill sensor, and external circuit breaker
High strength HDPE case for lightweight, portable and rugged use
LED indicators simplify recovery information
Certified to meet SAE J2851, conforms to UL 1963
Designed and manufactured in the U.S.A.
Includes
CCI37826 R-134a and R-1234yf Contaminated Auto Recovery Cylinder
CCI37827 R-134a and R-1234yf Contaminated Auto Recovery Hose Kit
Warranty
Three year warranty on the compressor, one year warranty on all other parts.
Product Specifications
Amps: 8A full load
Capabilities: Vapor, liquid recover
Compressor: 1/2 hp oil-less, twin cylinder
High-pressure shut-off: 350 p.s.i. - auto reset
Operating temperature: 40° to 122°F (4° to 50°)
Power source: 115V / 60Hz
Refrigerants: Contaminated R-134a and R-1234yf
Shipping dimensions: 22.5"W x 29.5"H x 15.5"L
Shipping weight: 70 lbs.