Honda Dealers: Please enter the site from the iN or eMall system for dealer specific content and pricing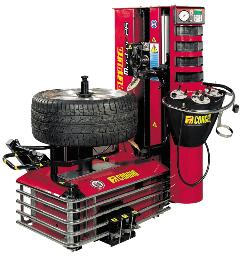 Item shown may not be actual product.
Product and price information are subject to change without notice.
---
Discontinued
Artiglio Master Tire Changer with PAX Package
---
Description
The ultimate in tire-servicing equipment for all Honda tires, including Michelin® PAX System™ tires, the Artiglio Master from Corghi takes the difficulty out of changing tires with an easy-to-use automated process. A computerized operator's console allows your service technicians to change tires with the touch of a button. The Artiglio Master does all of the hard manual labor: its automated features lift the tire, position the wheel, break both beads on the tabletop, and mount/demount the wheel.
What's more, the Artiglio Master can keep up with your dealership's growing tire business and tire-servicing needs: it can accomodate 120 to 26-inch wheels and all current PAX System tire assemblies.
The Artiglio Master tire service center package includes the PAX accessory kit and the PAX System support ring portable extractor - everything you need to service PAX System tires in compliance with the PAX System authorized dealer process.
Features
Unique tire-changing process that doesn't use bars and levers (on regular tires), eliminating incidental damage on expensive wheels
Pre-programmed mounting/dismounting modes for PAX System tires and regular tires 12-26 inches in diameter
Secure, pneumatic wheel-locking system prevents wheel slippage and ensures safety
In-dealership installation assistance and training session and technical support (including a tool-free help line, CD-ROM, and online assistance, eight mobil training units, and 60-plus field support representatives)
Includes
Options
Warranty
1 year on parts, 6 months on labor and onsite charges, and 1 year on transmission parts. Air chucks, hoses, gauges and all non-consumable soft parts are warranted for 90 days.
Product Specifications
Air Pressure: 150 p.s.i
Amp Draw: 10 amps
Rim Diameter: 12" - 26"
Tire Diameter: 40"
Voltage: 110 volt / 1 phase
Weight: 990 lbs
Rim Width: 15"

1. New Tire Changer Requirements:
Because of the growing number of vehicles with PAX System tires on the road, American Honda is now requiring dealerships to have the tools, equipment, and training necessary to properly service PAX-equipped vehicles in-house. Starting in April 2006, American Honda is including PAX System tire changing equipment in its list of Required Special Tools and Equipment. As an incentive to proceed quickly, Michelin will provide a $1,500 subsidy to those dealers who become PAX System authorized by December 31, 2006.

Most tire equipment manufacturers have PAX-ready machines as well as PAX-certified upgrades available for their more recent equipment. The quality and usability of this

equipment varies greatly, as do

the tire changers themselves. American Honda has tested two machines with PAX upgrades. Based on efficiency and safety, we prefer our dealers use these two machines and their corresponding support ring extractors:

Corghi Artigliomaster – AM26 with PAX Upgrade Kit
Hunter – TC3500 with PAX Upgrade Kit
Other tire changing brands are acceptable as long as Michelin has approved them to service PAX System tires. If you have equipment other than the two machines listed here, please contact your equipment manufacturer directly to see what types of PAX System equipment is available.
2. The best lube to dismount a bead on a PAX System tire is the liquid type. The liquid is able to flow into those tight areas where a paste can't reach.