Honda Dealers: Please enter the site from the iN or eMall system for dealer specific content and pricing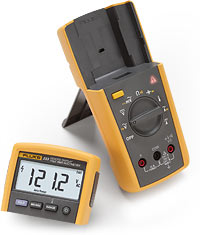 Item shown may not be actual product.
Product and price information are subject to change without notice.
---
$485.00
*
*log in for dealer pricing
Remote Display Multimeter
---
Description
The new Fluke 233 Wireless Remote Display Automotive Digital Multimeter Kit is the industry's first digital multimeter with a detachable wireless display, designed specifically for automotive troubleshooting.
By simply sliding the wireless display out of the meter body of the Fluke 233, the technician can place the display where it is most easily seen - up to 10 meters (33 feet) from the point of measurement - while putting the meter in the best position to take measurements. The removable display has a magnetic back and flat bottom so it can be mounted or placed on any flat surface where it can be conveniently seen. When the display is attached to the meter body, the Fluke 233 operates as a conventional multimeter.
Features
Measure up to 1000 VAC and DC
Measure up to 10 Amps (20 Amps for 30 seconds)
10,000 μF capacitance range
Frequency to 50 kHz
Min/Max and Average recording to capture variations automatically
Built-in thermometer conveniently allows you to take temperature readings without having to carry a separate instrument
Resistance, continuity and diode test
Easy to read display with large digits and bright backlight
Radio transmitter automatically turns off when the display is connected to the meter
Auto power off maximizes battery life; approximately 400 hours
Benefits
Ergonomics
Find a comfortable position to view and record test data, even when the test location is hard to reach or in a dirty or noisy environment
Safety
Safely view underhood measurements on moving vehicles
Separate the tasks of positioning the meter and reading test results, devoting full attention to each job - and working more safely
Safety rated for use in CAT III 1000V, CAT IV 600 V working environments; run tests and read results at a safe distance from high-voltage, high-current systems such as hybrid vehicles
True-RMS AC voltage and current for accurate measurements
Low power wireless technology is resistant to electromagnetic interference from ignition systems and other EMI sources, and will not interfere with other nearby electronic devices
Warranty
3 years
Product Specifications
AC Current - Accuracy: 1.5% + 3
AC Current - Range: 1.0 mA to 10A
AC True-RMS: Yes
AC Voltage - Accuracy: 1.0% + 3
AC Voltage - Range: 0.1 mV - 1000 V
Battery Life: 400 hours
Capacitance: 1000 nF to 9999 μF
Counts: 6000
Data Storage: Min/Max/Avg
DC Current - Accuracy: 1.0% + 3
DC Current - Range: 1.0 mA to 10A
DC Voltage - Accuracy: 0.25% + 2
DC Voltage - Range: 0.1 mV - 1000 V
Dimensions: (7.6"L x 2.08"W x 2.08"H)
Display: Removable and Backlit
External Protection: Rubber overmold
Frequency: 0.1 Hz to 50.00 kHz
Power: (5) AA alkaline batteries (3 for main body; 2 for display)
Ranging: Auto/Manual
Resistance - Range: 0.1 to 40 M
Safety Rating: CAT IV 600 V, CAT III 1000 V
Temperature: -40°F - 752°F
Weight: 1.3 lbs.
Wireless Frequency: 2.4 GHz ISM Band 10 meter range

This style of multimeter is:

Invaluable for troubleshooting in confined spaces, like under the vehicle dash.
Ideal to view underhood measurements while sitting in the vehicle.