Honda Dealers: Please enter the site from the iN or eMall system for dealer specific content and pricing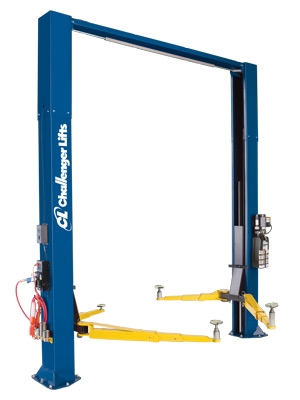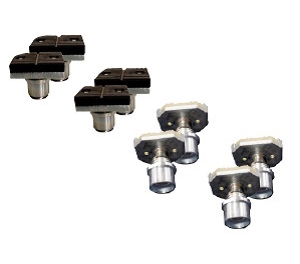 Item shown may not be actual product.
Product and price information are subject to change without notice.
---
*log in for dealer pricing
10K Versymmetric Two-Post Lift w/ EV Adapters
---
Description
10,000 lb. Verysmmetric® 2-Post Lift with Offset Front Arms and Three-Stage Rear Arms w/ EV Adapters
Challenger's ALI/ETL Certified Versymmetric® Two-Post Lifts maximize your revenue potential by having the flexibility to raise vehicles both symmetrically and asymmetrically in a single service bay. 10,000 lb. Versymmetric® Two-Post automotive lifts can accommodate just about anything that comes in for service and are equipped with one of three Versymmetric® arm configurations.
Features
Double your service capabilities! Heavy-duty arms are specially engineered to lift vehicles both true symmetrically and asymmetrically to increase a bay's servicing flexibility and revenue potential.
An overhead non-load bearing cable equalization system and small base plate leaves the floor clear so tools can be moved easier and minimizes floor obstructions.
Technicians can save valuable time by disengaging both column locks at the same time with our single point mechanical lock release system.
User friendly arm restraints automatically disengage when lift is fully lowered for easy positioning of arms and securely engage when lifts is raised.
Adjustable arm restraint shafts compensate for uneven floors.
Grease fittings located on arm pin bushings minimize corrosion to keep arms swinging freely.
48" elongated carriage design decreases load on bearing.
Heavy-duty 5" diameter pulley and 5/16" cable reduces stress on equalization system and increases cable life.
Fully gusseted base plate design reduces column deflection.
Padded overhead shut off system prevents vehicle damage from being raised too high.
Rubber door guards protect vehicles from door damage when accessing driver controls.
Must specify color at time of order. Available in Red, Blue or Black
Includes
CLFPB2270 Premium Double-telescoping Polyurethane Screw Pads, Standard for Challenger 10,000 lb. Capacity 2-Post and Inground Lifts
CLFTFPK Electric Vehicle Footpad Kit - designed to give a flat lifting surface (Set of 4). Required for Electric Vehicles.
Accessories
Warranty
Two years on parts, one year on labor, and 5 years structural from the date of installation
Product Specifications
Adjustable Width Overall: 11'6.5" - 11'11"
Ceiling Height Required: 11'11" / with 2' Extension: 13'9" / with 3' Extension: 14'9"
Cylinder Overall (Full Stroke): 11'11"
Drive-Thru Clearance: 100" / 104.5"
Floor to Overhead Switch: 10' 8-1/2" or 11' 2-1/2" / with 2' Extension: 12' 8-1/2" or 13' 2-1/2"/ with 3' Extension: 13' 8-1/2" or 14' 2-1/2"
Front Arm Reach - Min / Max: 20" / 42"
Inside Columns: 110" / 114.5"
Lifting Capacity: 10,000 lbs.
Low Lock Height: 12" Net Rise
Max Load per Arm: 2,500 lbs.
Motor / Voltage (Single Phase standard) - Standard : 2HP, 208-230V
Motor / Voltage (Single Phase standard) - with Quick Cycle option: 3HP, 208-230V
Overall Height: 11'2" or 11'8" / with 2' Extension: 31'2" or 13'9" / with 3' Extension: 14'2" or 14'8"
Rear Arm Reach - Min / Max: 37.625" / 60"
Rise Height (measured including tall 6" stack adapters): 74.125"
Screw Pad Height - Min / Max: 3.875" / 6.125"
Speed of Rise: 38 Seconds

For more information see the BEV Required Equipment document which can be accessed via iN (SERVICE > Service Bay > BEV Required Equipment).