Honda Dealers: Please enter the site from the iN or eMall system for dealer specific content and pricing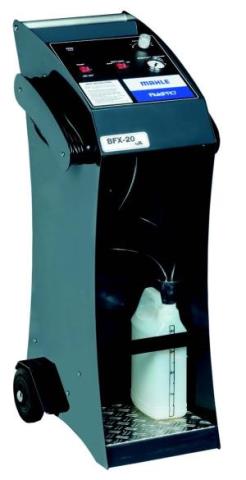 Item shown may not be actual product.
Product and price information are subject to change without notice.
---
$2,245.00
*
*log in for dealer pricing
FluidPRO BFX-20 Brake Fluid Exchanger
---
Description
FluidPRO BFX-20 Brake Fluid Exchanger delivers complete brake fluid exchange in a simple process, unlike most competitive models. Compatible with both ABS & non-ABS brake systems, it is easy to operate with service times of 10 minutes.
Features
New brake fluid pumped from supplied 5L/1.3 gallon reserve tank, transfer of fluid is not required
Variable pressure regulator
Brake Master Cylinder fluid extractor
Suitable for ABS, ESP?, EDS, and SBC
Equipped with a hydraulic pump
Automatic switch-off on empty container
Pulsating fluid flow to pressurize air bubbles out of the braking system
Pressure-less decoupling from vehicle
Venting of device during container changeover is not necessary
Removable shelf for adapters and tool storage
Benefits
Quick evacuation of waste brake fluid to speed up brake fluid change
Reduced system back pressure lessens the likelihood of fluid spill and/or spray when removing hoses from the adapters
Automatically relieves pressure after service and then returns fluid back to the reservoir
Single technician operation
Includes
Warranty
Two year limited warranty for parts and service
Product Specifications
Dimensions: 40"H x 16"W x 16"L (1016 mm x 406.4 mm x 406.4 mm)
Filling Hose Length: 11.3 ft. (3.4 m)
Maximum Container Size: 5L / 1.3 gallon
Power Supply: 110V, 60 Hz
Weight: 46 lbs. (20.87 kg)
Working Pressure: 5 - 50 PSI

When switching from brake fluid types (ex. DOT 3 to DOT 4), be sure to bleed the fluid a little bit longer during the first bleed process to flush out the previous brake fluid type. This is recommended when switching from DOT 3 to DOT 4. It is not necessary when going from DOT 4 to DOT 3.