Honda Dealers: Please enter the site from the iN or eMall system for dealer specific content and pricing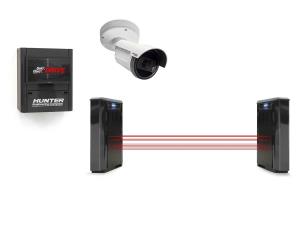 Item shown may not be actual product.
Product and price information are subject to change without notice.
---
$53,551.00
*
*log in for dealer pricing
Quick Check Drive Sensors with Wall-mount Console and External Vehicle ID, Black
---
Description
Hunter Engineering Company's Quick Check Drive® system provides autonomous alignment audits powered by Hunter's award-winning WinAlign® Software. Using 32 lasers and 8 cameras, the completely unmanned system scans a vehicle's wheels as they drive through without stopping. Hunter's external vehicle identification camera captures better quality photos — especially on challenging license plate designs and special character layouts.
Features and Benefits
Automatic alignment results

32 lasers and 8 cameras scan wheels as they drive past
Touchless total toe and individual camber
Unmatched accuracy and repeatability
No stopping, data entry, or labor required

Automatic vehicle identification

Captures front and/or rear license plates
Automatic license plate-to-VIN conversion
Automatically determine OEM specs on most vehicles

Automatic results display

Display alignment results on large monitor
Complete transparency for customer
Ideal for service drive and/or waiting room

Quick Check Drive® is integration ready
Less bay space required
Automatic body image capture

Automatic body photos protect against false damage claims
40 or more high-definition images of every vehicle on both sides
Images are stored online for 15 days
Includes
HUNDRV1BLK Quick Check Drive® Sensors, Black
HUNWU592BLK Wall-mount Console, Black
HUN2035841 Short Focal Length External Vehicle ID
HUNBDC Damage-Cam with Standard 15 Day Image Storage
Options:
HUNES90 Annual subscription for 90-day extended image storage*
*Requires Damage-Cam package and active HunterNet® subscription
Integration Options:
Flush-mounted Quick Tread Edge® can be integrated with Quick Check® to build the most profitable unmanned inspection system.
Quick Check® with Quick Tread Edge® System Models:
Touchless alignment inspection and tread depth with tire edge wear detection!
HUNQCD92TFCB Quick Check Drive® Sensors and Flush-mount Quick Tread Edge®
with Wall-mount Console (HUNWU592BLK) and External Vehicle ID - Black
NOTE: Quick Tread Edge® Sensors with Wall-mount Console and External Vehicle ID are also available, HUNQTE92FIBL - Black.
Visit the online equipment catalog for details and additional Quick Check® and Quick Tread Edge® configurations, or contact your program's fixed operations consultant for further assistance.
Warranty:
Call the Hunter Customer Service Department at 1-800-448-6848 for specific warranty information.
Product Specifications
Sensor Shipping Weight: 140 lbs. (per tower)
Real-time Specs Delivered by Web: WebSpecs®
Memory: 4 GB of DDR3 SDRAM
Monitor Class: 22" widescreen LCD (QCD92) touchscreen
Wireless Network Module: Yes- standard
Vehicle Specifications (30+ years): Standard - 2 years free updates
HunterNet®: 3 years free access for 1 user
Quick Check Drive Power Requirements: 115/230V, 15 amp, 50/60 Hz, 1 ph
Wall-mount Cabinet Dimensions: 24"W x 28.5"H x 13.5"D
Sensor Dimensions: 8"W x 41"H x 37"D
Wall-mount Cabinet Shipping Weight: 155 lbs.
Operating System: Windows® 10 - 64 bit
Hard Drive: 250 GB Solid State Hard Drive (or greater)
Internet connection: Minimum 20 Mbps for upload and download (ethernet cable required)
Cable Lenth: 75 ft. per tower
Processor: 3.7 Ghz Intel® Core™ i3
DVD-RM/CD-RW Drive: Standard
Alignment Printout: Fully customizable
Spacing Between Sensors: 132" - 156"
Hunter QuickCheck® Software: Standard
Unmanned Console: Standard
Power Line Filter: Standard
License to VIN service: Requires CARFAX EULA on file

The Damage-Cam feature can reduce false vehicle damage reports.
Scan every vehicle on the drive in seconds; increasing return on investment opportunities.